Among her credits are:
Over 30 years as a multi-licensed and Breed Judge throughout the United States and Canada.
A Nationally renowned Standard of excellence in the show ring as an exhibitor.
Developed Judges Education, testing and licensing programs.
Popular, Invited Clinician at events such as Equine Affair OH, CA, MA, , Horse World Expo, Expo's, and Horse Fairs throughout the USA.
Shades of Oak/ Elizabeth Graves LLC - 14377 Poppy Drive - Spring Valley, MN 55975.
Owner and manager- providing services of trainer, Internationally renown clinician, judge, consultant, lessons, writing for national publications, video productions
Lizer Design's - Spring Valley, MN. Owner and manager of a designing, manufacturing and retail business specializing in equine related products.
Walnut Creek Farm - Raphine, VA. 1978-1995. Co-owner, Establishing a full time all breeds horse training, show, breeding and sales facility. Judge and clinician.
Education
Blue Ridge Community College, VA 1988-1992. Equine management, equinereproduction,Advanced equine management, Equine handling, Horse health, Foal and yearling management. 3.83 GPA

Mary Baldwin Collage, Staunton , VA. Human Psychology and Public speaking courses.Stanton School Of
Stanton School Of Cosmetology Graduate
Continuing Education
Virginia Technical College, VA. - Detecting Equine Lameness, Treatments, Corrective Shoeing procedures.
Westwood Animal Clinic Workshops - Foal Management, Equine Management
Dr Scott Sleighbaugh DMV, Workshops - Equine lameness, Colic workshop
Joe Struby Riding Instructor Educational Clinics
North Carolina Open Show Judges Certification Clinics



2001 RMHA Judges Clinic



Alternative Therapies Internship 1999
With Bonnie Labuda
Kimball, MN
These are all therapies used within our equine
training program by Elizabeth Graves Equine/Canine Acupressure

Equine/ Canine Message
Aroma Therapy
Magnetic Therapy
Bach Flower Essence Therapies
Moxibustion Herb Therapy

Continue to attend a wide variety of seminars and clinics
Credentials, Licensures and Certifications
Current :
Joe Struby, Riding Instructor
I.B. Hoofinit, Horsemanship Instructor
Gaited Curly Horse Assoc. Gait Inspector
Amateur Elephant trainer certificater


Non Current:
Heart of America Walking horse Assoc., Flat shod judge all gaited Breeds.
Non Current since 2010
IPWHA. Judge 1992-1995
IPWHA Judging program Vice President 1992-1995
IPWHA Versatility Program Director 1994
IPWHA Gait and Conformation program Director 1992-1995
IPWHA Show committee Member 1990 - 1992
IPWHA Rule Book committee member 1990-1992
RMHA Senior Judge
World Side Saddle Federation, Judge , instructor, regional representative.
North Carolina Open Horse Show Assoc. Certified Judge
National Plantation Walking horse Assoc. Judge
Minnesota 4-H Assoc. Judge
Spotted Saddle Horse Breeds and Exhibitors Assoc. Master Judge
Ponies of America Assoc. Judge
Walking Horse Trainers Assoc. Licensed Trainer
Virginia State Licensed Cosmetologist
Virginia State Cosmetology Certified Instructor
UKC Licensed Master of Hounds
UKC Licensed Bench Show Judge

Publications:

Plantation Walking Horse Gait and Conformation Standards, Copy write 1993
Adopted Standards by clubs and Assoc. of the time in USA and Canada

Articles in:

Gaited Horse Magazine
Paso Fino World News
Aside World Magazine
IPWH News
North American Walker Magazine
Plantation Exclusive Magazine
Western Horseman
Various Breed assoc. News letters;
Many Gaited Horse Related web sites
MN Trail Riders Assoc. NL
Trail Rider Magazine
Valley Equestrian New Paper
Icelandic Horse Connection Booklet
Fox Trotter Free Press

Fox Trotter Journal

Other Media

"Gathering of Gaits" Videos
"Icelandic Horse Gathering" Videos
"Gaited Horse Structure as it Related to Gait" Videos
"Icelandic Horse Gathering" CD
A Bit About Bits" DVD

Other

Have conducted over 723 all Breed Gaited Horse Clinics since 1990 throughout the USA and Canada.
Have conducted a multitude of Non-Breed Gaited Clinics , seminars of various topics and Side saddle clinics since 1990.
Have judged over 150 Gaited and Non-Gaited horse shows since 1982, totaling over 28,000 entries.
Have shown various Gaited breeds since 1978 on a local, state, regional and National levels acquiring championships at all levels. Shown Non-gaited breeds since 1965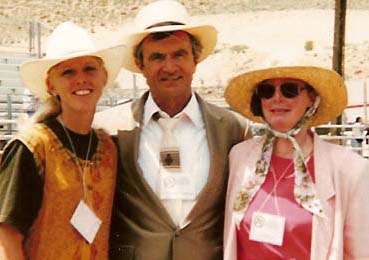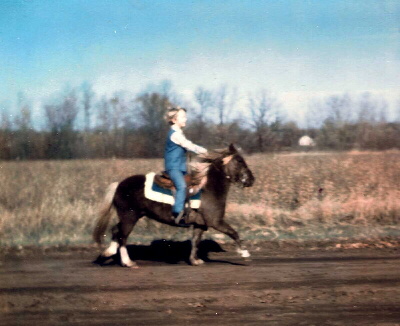 Liz & Purple Pony Skin 1969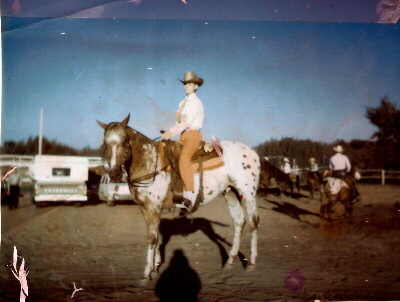 Liz & Walter Dammit Pedro 1971
Mid-State Riders Show, Cambridge, MN
T& B Tack Shop show grounds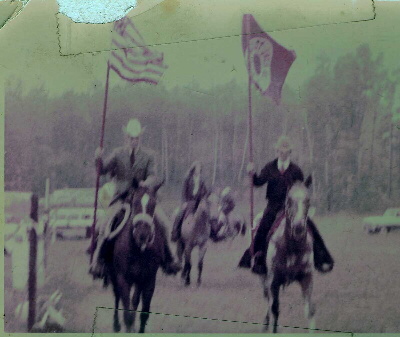 Liz & Walters Dammit Pedro
Bootjack Saddle Club Queen 1971
Sugar Hills Show, MN